Barefoot sandals are a popular trend that has taken the world by storm. They can be worn to dress up and make your feet stand out. Barefoot Beach wedding sandals look elegant and feminine, giving you the opportunity to showcase intricate designs.
These shoes are more visually appealing than anklets, and they allow you to feel the warm sand gently massaging your soles. You can also show off your beautiful feet with these shoes.
It will be a memorable destination wedding with a unique touch. There are many options for jewelled sandals to be used for beach weddings. Here's a selection of the best for you to choose from.
Best Barefoot Beach Wedding Sandals:
Take a look at our amazing collection to find the one that best suits your style and personality.
#1 Boho Bride Beach Wedding Sandals
To create an artistic masterpiece, these delicate foot chains use rhinestones or kundan gems to make beautiful rhinestone and kundan necklaces.
They are stunning in beauty and can transform even the most basic feet into something extraordinary. The adjustable closure ensures comfort. These sandals are the perfect way to finish your bridal look without sacrificing the soothing effect of the beach sand beneath your feet.
#2 Spring Flowers Barefoot Beach Sandals
Spring flowers make the best beach sandals, as they blend in with the natural environmental.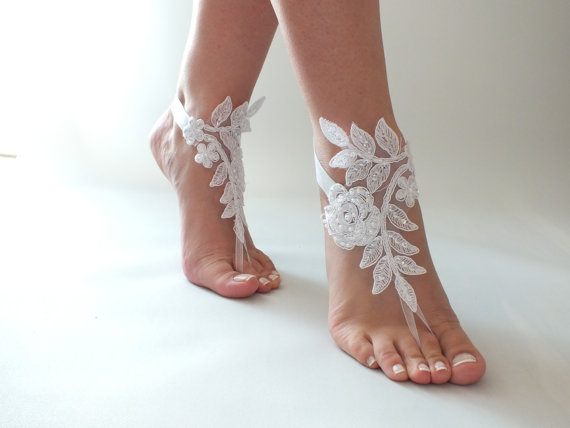 They have a delicate and attractive effect, making them captivating and unique. You can incorporate the subtle elegance and beauty of flowers into them, making them even more distinctive. They can be incorporated into any theme and are simple but elegant. They are great for flower girls or bridesmaids in a destination wedding at the beach.
#3 Aquarius Barefoot Turquoise Sandals
These sandals are inspired by the ocean and feature a prominent Aquarius centerpiece, which perfectly reflects the calm color of the ocean.
They are set on a silver frame and have an eco-friendly design that blends in with the natural environment of the beach. They have an adjustable length to fit any size.
#4 Dream Girl Barefoot Beach Sandals
These sandals for beach weddings are a great choice for any occasion. This creates significant visual interest, and emphasizes the natural beauty of the feminine foot.
This less-remarkable metallic charm is perfect for drawing attention towards a slim ankle and highlighting the natural contours if your feet. They look great with all wedding dresses.
#5 Champagne Barefoot Sandals
These stylish barefoot sandals are perfect for the adventurous and free-spirited bride who doesn't want to stick with the traditional pearly white theme of most weddings.
They are visually stunning because of the champagne color and the intricate crocheted design. Cotton is the best material to use for beach activities because it is resistant to water damage and can be enjoyed with great memories.